Guess what? I have a story coming out in One Horn to Rule Them All: A Purple Unicorn Anthology, edited by Lisa Mangum and published by WordFire Press.  Stories by 19 different authors that all have to do with purple unicorns in some way. Lots of great writers in here, including Peter Beagle. Rad!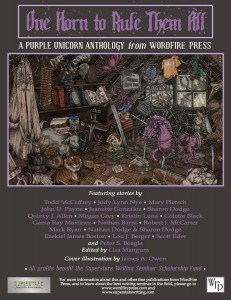 You can order it online most anywhere, in trade paperback or ebook formats. If you want yours autographed, you can come see me at Salt Lake City ComicCon next month. I'll be at the WordFire booth with several of the other authors in this anthology.
Or you can click on the PayPal button below and I'll send you a copy with my signature and something scribbled inside.