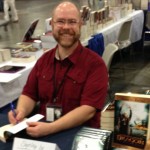 John D. Payne grew up all over the American Midwest. He now lives near Houston with his wife, son, and many shelves of books.
His debut novel is The Crown and the Dragon, published by WordFire Press and now a major motion picture from Arrowstorm Entertainment.
A lover of all kinds of books, he also publishes short stories in various speculative fiction genres as well as literary fiction.