This week on Patreon, I have put up a bunch of Bonus Content for May's Story of the Month, "Only the Dead." It's available for every patron, at any level of support. Yaayyyyy!
Since this is the very first time I've shared Bonus Content, I thought I might talk a little bit about what kind of Patreon supporters can expect to see. Typical Bonus Content might include any or all of the following:
* Inspiration behind the story
* Deleted scenes
* Answers to reader questions
* Behind-the-scenes setting and character details
In addition to bonus written content, I also plan to include my own original art.  For example:
* Character sketches
* Maps
* Photos of real-life people or places
And this week, since I don't have any of those, I'm including a few macabre cartoons since the inspiration for this story comes from my own wonderings about death and what comes after.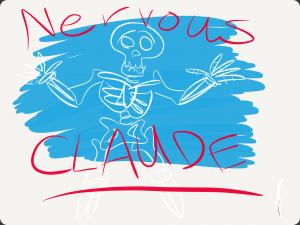 The above image was created using the Paper app by 53. And the next three were created using Words With Friends, which I have no one to play with any more. (Hint, hint!)